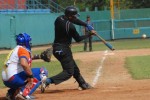 Far away from their home, in the Nguyen Van Troi park, the baseball players from Sancti Spiritus will start the 53rd Cuban Baseball National Season facing Guantanamo's Indians on Nov. 3.
According to the schedule released last week,  Sancti Spiritus Roosters' second series will take them to Santa Clara, where they will confront the current champions of Cuban baseball in the Augusto Cesar Sandino stadium, before coming to their own headquarters to play vs. Pinar del Rio.
The opening encounters of the new championship will have as main attractions the duels Villa Clara-Matanzas, and Santiago de Cuba-Industriales.
Isla de la Juventud and Pinar del Rio will also play in the first subseries Nov. 3-5, in the Capitan San Luis park; the Las Tunas-Artemisa game will be held at the 26 de Julio park of the latter city; and the Cienfuegos-Mayabeque game will take place at the Nelson Fernandez park.
Ciego de Ávila will meet Holguín as visitor, at the José Ramón Cepero; and Granma will have Camaguey as its opponent at the Cándido González.
The Baseball National Federation informed that as of Dec. 30 there will be a New Year's break and games will restart on Saturday, Jan. 4, with the selection of reinforcements for the playoffs. The next day, the All-Star game will be held.
The second part of the series runs Jan. 11-March 17 with a Jan. 30-Feb. 10 recess for the Caribbean Series, if Cuba's presence is finally approved, with the team of Villa Clara representing the country.