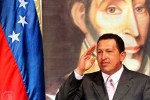 The president of Brazil's ruling Workers' Party (PT), Rui Falcao, reiterated his party support for the re-election of Venezuelan President Hugo Chavez in the October general elections in the South American nation.Falcao was quoted as saying: "Without interfering in the internal affairs of other countries, we express our sympathy and our support for Chavez's re-election. We support all governments that give priority to social majorities."
The PT president stressed he was speaking only on behalf of that political force and not the government of President Dilma Rousseff.
In comments to foreign journalists in the headquarters of the PT in Brasilia, Falcao said he will express his support for Chavez in July, when he travels to Caracas to attend the Sao Paulo Forum. The Forum is a conference of center-left-leaning parties and other organizations from Latin America and the Caribbean, which was launched by the Workers' Party of Brazil in 1990.
The political leader said his party supports all Latin American governments that don't accept imperialist hegemony in their countries, don't surrender to neo-liberal policies and fight for national emancipation.  Falcao added that among other governments, the PT supports Salvadoran President Mauricio Funes, Ollanta Humala of Peru, and Argentinean President Cristina Fernandez.
The president of the Workers' Party stressed that all these heads of State follow a similar line to that of former Brazilian President Luiz Inacio Lula da Silva regarding respect for social rights, the fight against inequality and the consolidation of democracy. (Taken from RHC)