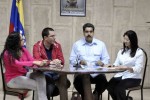 Hugo Chavez has suffered "new complications" following his cancer surgery in Cuba, his vice president said Sunday, describing the Venezuelan leader's condition as delicate.
Speaking on television form Havana, Vice President Nicolas Maduro reported on the clinical condition of President Chávez, saying the new complications came amid a respiratory infection.
He also conveyed New Year greetings from President Chavez to all Venezuelans.