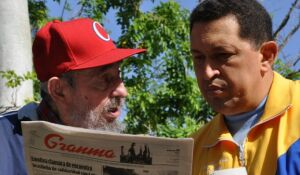 Venezuela is an outstanding example of the theoretical and practical role that revolutionary military people can play in fighting for the independence of our peoples, underlined the leader of the Cuban Revolution, Fidel Castro.
When recalling that they follow the tradition of those that fought along with Liberator Simon Bolivar two centuries ago, Fidel Castro affirmed, in his latest reflection, that is unfair to criticize President Hugo Chavez for investing resources in armaments.
"I am certain that they would never use arms to attack a brother country", pointed out the Cuban leader.
When highlighting the genius of Chavez, Fidel Castro noted that he does not limit to theoretical plans, since his actions are rapidly carried out.
After explaining that technology has changed in many aspects of war, Fidel Castro noted that men have the duty to fight to seek solutions that favor a more reasoned and dignified existence.
It could take millions of years for human beings to repopulate the planet, he said.