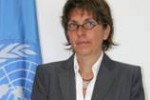 United Nations Resident Coordinator in Cuba, Barbara Pesce-Monteiro, said in Havana that the outcome of the Meteoro 2012 exercises against natural disasters is very valuable.
It's an interesting experience, above all for the countries in the Caribbean due to their vulnerability before any natural disaster, said the also representative of the UN Development Program.
Pesce-Monteiro, of Italian descent, added that they are studying the possibility of using Cuba's experience in other nations in evaluating the risks and early warnings with the objective of preserving the communities in danger.
The expert witnessed on Sunday, alongside other colleagues from international entities and military representatives of the diplomatic corps accredited in Havana, a rescue drill at the Hotel Saratoga located in Old Havana.
During the second and last day of exercises, Meteoro coincided on Sunday with the National Week of Protection against Fires that concluded with a maneuver exercise in the Havana Hotel.
Evacuation and first aid; fire extinction in high buildings and the use of canine techniques to locate possible explosive devises, demonstration of the capacity of the forces and participating means were just some of Sunday's exercises.
Mercedes Lopez Aceo, the General Secretary of the Cuban Communist Party in the city of Havana congratulated the combatants for the demonstration of their operation.
Previously Lopez Acea and Division General Ramon Pardo Guerra head of the National Civil Defense proved the conditions created for the evacuation and protection of the population in coastal flooding areas, homes, medical post, center for the elaboration of food and supplies.
Taken from AIN