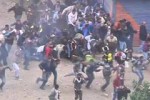 Marches and rallies against capitalism, from coast to coast, are taking place in the United States on Tuesday called by the peace movement Occupy Wall Street (OWS) on International Workers' Day.
The so-called indignants invited the working sector and students weeks ago to join the demonstrations to protest against economic and banking policies against the poorest.
The OWS call states that the demonstrations seek to report financial abuses by the wealthiest sectors in the country, which account for 99 percent of the population affected by the evils of capitalism.
It is a day to be humane again and to have fun along with family and friends. It is the best way to counteract the system, they noted.
Several New York unions and groups of justice workers are expected to march in the so-called Big Apple, and OWS reported that demonstrations will also highlight the contribution of immigrants to the United States.
It is noteworthy that in the United States, May 1 is not a day of celebration, as they have celebrated Labor Day on the first Monday of September since 1882, a decision made by the Noble Order of the Knights of Labor.
On Tuesday, the strike could be an important support from OWS to the union and workers' movement in the United States, in an effort to further publicize the problems of the working class in the country.   (Taken from PL)