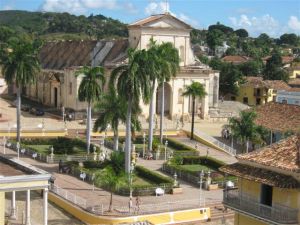 The ancient Cuban village of Trinidad has been undergoing restoration actions for two years now. Over a hundred houses have been already restored in Santa Ana and Tres Cruces districts, while La Popa is being taken care of at the moment.
"A piece of wasteland was turned into a children's playground in that area.  The apparatuses displayed in the park to amuse the kids were donated by local companies", said Víctor Echenagusía, expert from Trinidad's Curator Office, who also highlighted the contribution of students from the School of Restoration Trades.
This neighbourhood is found in the surroundings of Nuestra Señora de la Popa church, the city's oldest temple, and also near the Pansea Hotel.
According to Echenagusía, the renovation actions are to be continued around the historic area over the next few years.
He also referred to the budget allocated for the works at La Popa, which are being carried out by workers from the restoration company annexed to the city's Curator Office.