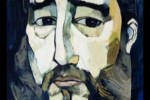 The launch of the book "Fidel Castro, Guerrillero del Tiempo" at the Chapel of Man (Capilla del Hombre) in Quito, which showcases the work of his friend Oswaldo Guayasamin, became a motive of a mass tribute to the life of the leader of the Cuban Revolution.
The 1,666-page biographic book, which begins when Fidel Castro was a child until the triumph of the Revolution in 1959, was presented before some 400 guests who gathered around the eternal flame the "Painter of Latin America", to be kept alive until his return.
The author of the book, Katiuska Blanco, and Abel Prieto, writer and adviser to Cuban President Raul Castro, concluded the presentations in Ecuador, after a similar meeting on Tuesday night in the provincial government of Guayas, in the port city of Guayaquil.
The event included presentations from the Ecuadorian ministers of Heritage Coordination, Maria Fernanda Espinosa, and Culture, Erika Silva. The latter participated in a nine-hour meeting of intellectuals with Fidel Castro during the recently-held Book Fair of Havana.  (Taken from PL)