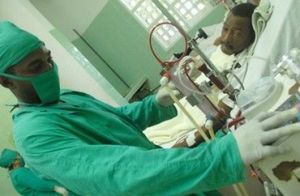 More than a thousand hemodialysis have been conducted so far this year in the Nephrology ward of the General Teaching Hospital Joaquin Paneca, in Yaguajay, Sancti Spiritus.
The northern municipality is the only one counting with a qualified center to provide this treatment in addition to the Provincial Hospital. The room is equipped with modern technology, which includes five artificial kidneys, and receives everyday about twenty patients from the northern territory and the Cuban provinces of Villa Clara and Ciego de Avila needing dialysis of the blood.
According to Dr. Amaury Ung Salazar, specialist in Nephrology, "so far spread of Hepatitis C is not reported, which is common in affected patients undergoing such a treatment for years. Although the disease itself often compromises the patient's life, no deaths are reported neither. "
However, the specialist explains that several actions must be taken in order to increase the investigations of persons likely to develop chronic renal failure, because this disease shows a high incidence in the municipality, as influenced by different risk factors like diabetes and hypertension pressure.
These treatments are usually very expensive worldwide-the cost of hemodialysis is around 130 dollars, due to the use of several expensive medications such as the Erythropoietin.