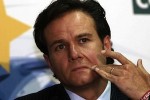 The general director of the National Commission for Physical Culture and Sports of Mexico (Conade), Bernardo de la Garza, arrived in Cuba on Wednesday.
"The objective of this trip is to strengthen bonds in the field of sports between the two countries even more", said De la Garza upon his arrival in Havana, the Cubadebate Web site reported.
De la Garza highlighted that "Cuban sports is an example to the world" and expressed Mexico's interest in "reviving these already profound relations with Cuba".
"We want to take up that experience to increase it several times over in any part of Mexico", added De la Garza, without ruling out that his country could support Cuban soccer, with trainers and exchanges of teams, above all in the junior category.
During his visit, the top authority of Mexican sports will tour sports facilities and will
hold meetings with Cuban executives and trainers.
Cuba and Mexico have kept relations in the sphere of sports for several decades now and on many occasions Cuban teams, mainly baseball teams, have trained in that country in conditions of altitude before taking part in top level international competitions. (Taken from ACN)