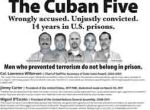 A full-page ad published today in The Washington Post demands the immediate release of five antiterrorists Cubans unjustly sentenced in the U.S. since 1998.
The advertisement, placed in the US capital daily by the National Committee to Free the Cuban Five, appeard thanks to the efforts of more than 325 organizations that contributed with revenues.
The page of the Post demands the release of Gerardo Hernandez, Fernando Gonzalez, Ramon Labanino, Antonio Guerrero and Rene Gonzalez arrested on September 12, 1998, and subjected to a rigged trial for political reasons.
The Cuban Five were arrested, tried and unjustly condemned for monitoring anti-Cuban extremist groups based in Miami, well-known as organizers of terrorist actions against Cuba.
Gloria La Riva, coordinator of the Committee, stated that every inch of newspaper coverage, every minute of television and radio on the Five (as they are known worldwide), and their mission against terrorism, and the campaign for their release has been a struggle.
"That's why we decided to take out a full page ad in the Washington Post to demand that the political class, from U.S. President Barack Obama, until the members of Congress and the Justice Department, to correct this terrible injustice and free the Five", La Riva said.
The Washington Post is the most widely read newspaper in the American capital and the sixth largest in the country, with a daily print circulation of over half a million copies and 1,800 000 daily readers.
The committee of solidarity with the Cuban Five released their first full-page ad in The New York Times, on March 3, 2004, in what was the largest exhibition of the case in the media.
Taken from Prensa Latina