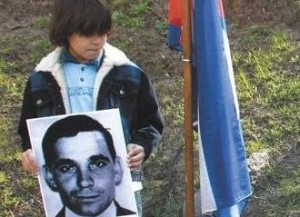 Crescencio Galañena Hernández was murdered in Argentina in 1976.
The Operacion Condor hired killers couldn't prevent that the remains of young Cuban diplomat Crescencio Nicomedes Galañena Hernández could return to Yaguajay some day, despite his remains were placed into sand filled 55-gallon tanks, which were perfectly sealed with cement, and later on thrown into the bottom of a canal in the outskirts of Buenos Aires.
El Negro (The Black One), as his relatives used to call him, and still do, had stepped out of the Cuban embassy in Argentina accompanied by his fellow worker Jesús Cejas Arias, from the Cuban province of Pinar del Rio. They were both walking along Virrey del Pino Avenue, when their walk was unscrupulously interrupted right at the Arribeños street cross. It was August 9th, 1976.
According to American journalist John Dinges, who affirms to have talked to people who witnessed the abduction, it was a group of some 40 armed men, whose cars blocked both sides of the street, and put down the two revolutionaries, who offered great resistance.
Eight days later, on August 17th, in an attempt to hide the scandal of the disappearance of the two diplomats, the Argentinean dictatorship released a coarse and cynical piece of news in La Opinion newspaper, saying that the AP news agency had been recipient of an envelope with the credentials of the two Cubans and a statement that confirmed they had given up their foreign service:
"We (Jesús Cejas Arias and Crescencio Galañena), both of us Cubans, are hereby addressing you to inform that we have abandoned the embassy in order to enjoy the freedom of the western world", read the note, having neither signature, nor any other king of explanation.
THE YOUNGEST OF THE FAMILY
Crescencio's sister Alejandrina Galañena, who has been waiting for El Negro during the last 36 years, hasn't been able to forget the impact of the news: "When I was told about it, I had an attack, and I passed out and fell. I've never felt all right since then", she remembers.
"My family was not the same anymore, she says. My father suffered very much. He began to suffer from brain ischemia until he finally died. We all suffered, but the suffering has kept us together".
"We called him El Negro because when he was little, he refused to wear clothes most of the times, and was very much exposed to the sunlight, that's why he got much tanned. He was very quiet, and got on well with everyone around here. He was welcome in every home like family", said Mario, a brother of Crescencio for whom, obviously, the pain doesn't go away with the repatriation of the remains.
El Negro was raised in La Garita hills, in Yaguajay. He was the youngest of eight children born from Ricardo Galañena and Victoria Hernández amidst rural poverty conditions which helped harden the boy's character.
"He was the spoiled child of the family —said Alejandrina—, our parents cared more for him because he was born unhealthy, but when he grew up, he became a very resolute and revolutionary young man. He decided to join the Military Service, and was sent to Caibarien to work as coastguard. Later on he left to study in Havana, until he was sent to Argentina, where he spent a year before he got disappeared".
THE TORTURE AT AUTOMOTORES ORLETTI
When La Opinión and AP published the news on the desertion of Galañena Hernández and Cejas Arias (the latter is still disappeared), they were both kept at Automotores Orletti, a clandestine centre of detention, torture and extermination owned by the Condor Operation in Buenos Aires.
This fact was later on known from an Argentinean survivor named José Luis Bertazzo, who heard the story from two young Chileans who had been also imprisoned in that inferno, which was regarded as a garage or as one more repair shop in town.
In an interview granted last August to Cubadebate, and reproduced by Granma, Cuban expert José Luis Méndez Méndez,  author of the books Bajo las alas del Cóndor (Under the wings of the Condor) and La Operación Cóndor contra Cuba (Condor Operation against Cuba), and also legal representative of the families of the two Cuban diplomats, affirms that on July 19th, 2004, he was also confirmed on this issued by Chilean repressor Manuel Contreras Sepúlveda during a conversation we held in Santiago de Chile. He commented that the two juveniles had been interrogated by terrorist Guillermo Novo Sampoll.
According to the information collected by Méndez Méndez, the CIA was sent the results of the interrogations made in Orletti to Argentineans, Uruguayans and Chileans who had been kept there, and sixty five of which got disappeared.
Although both the kidnapping and murder of Galañena Hernández and Cejas Arias had been confirmed, their disappearance was a real mystery for 36 years.  There were speculations about whether their bodies had been thrown into the foundations of a building in Buenos Aires, or into the river, or buried somewhere…
THE SAN FERNANDO FINDING
According to Argentinian Página 12 newspaper, it was a group of kids who were hunting guinea pigs and mice in an area in front of the San Fernando aerodrome, who found a rotten metal barrel, already broken, which kept bones in the inside.
Later on, the police found two other similar barrels with osseous remains, too. The scientific analysis of the remains allowed establishing that the bodies belonged to Crescencio Galañena Hernández, to María Rosa Clementi de Cancere, an Argentinian lady who was also worked in the Cuban Embassy, and to Ricardo Manuel González, who were all kidnapped in August, 1976.
Similar findings have been reported in San Fernando before with victims kept at Automotores Orletti. In that same year (1976), seven other barrels were found, one of which contained the remains of Marcelo Gelman, the son of poet Juan Gelman.
Daniel Rafecas, the judge in charge of the cause for the crimes against humanity committed at the clandestine center Automotores Orletti, which has led to the conviction of tens of repressors, has described this dark episode of the history of Argentina with enough elocution:
"We must get aware of the fact that people with whom we share the same culture, the same civilization, executed defenceless men and women by shooting them on their heads. Then, they managed to get drums, sand, and cement; and then, it is probably that they themselves placed the bodies into the drums, filled them up, and carried the cargo with the human remains until the trucks to finally throw them away into the river", he wrote.
"We followed the San Fernando lead after a comment published in a book by two American journalists (…)—Said Cuban researcher Méndez Méndez—. In 2009, I participated in the search made in the area by Argentinean divers from the Naval Prefecture (…) Since 2005, we followed several leads, but we were confident that the answer was there in San Fernando".
[nggallery id=39]