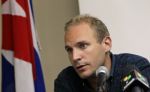 Swedish young man Jens Aron Modig, involved in a accident that resulted in the death of two people, revealed today that he had brought 4,000 euros for an illegal organization in violation of Cuban laws.
"We don´t make such funding to organizations in other countries," Modig admitted in remarks to reporters at the Department of International Relations and Cooperation of the Interior Ministry.
As he explained that this was his second trip to Cuba, Modig, who is the president of the Social Democratic Youth of the Christian Democratic Party of Sweden, said he made the two trips under instructions of the party´s international department.
He added that objectives of his trip included meeting with Oswaldo Paya, a leader of an illegal organization who died in the accident in Granma province, eastern Cuba, some 800 km from Havana.
He was also supposed to meet with members of Paya´s movement and support and accompany him in any trip he wanted to make.
"I would like to apologize for coming to this country to carry out illegal activities," said Modig, who, questioned by journalists on this regard said that his apologies were sincere.
"In this case my apologies are sincere; all the Cubans I have met have been kind to me and have treated me well. This is my answer," he stressed.
I understood how serious the activities carried out were when I talked with the police officers, said the politician, who had given money and equipment already to counterrevolutionary journalists in 2009, according to his own words.
Referring to the car accident on July 22, he said he did not recalled any other car involved in it.
Taken from Prensa Latina