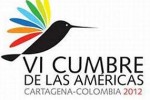 As if the hot sun was not enough to raise the temperature in this city, the intensity of the hemispheric forum will add a few degrees, with a meeting before the presidential one and the subject Cuba.
The arrival of most heads of state and government who will participate in the Sixth Summit of the Americas this weekend is scheduled for Friday, day in which also begins a businessmen forum and the independent and alternative People's Summit continues.
However, the temperature rose from last night when it was learned that the Foreign Ministers and delegates from 32 countries asked Colombia to invite Cuba to the presidential meeting to be held on Saturday in the framework of the VI Summit.
This was revealed to the press by Foreign Minister of Argentina, Hector Timerman, after a ministerial meeting prior to the presidential in this city of the Colombian Caribbean.
He said the proposal is that Colombian Foreign Minister Maria Angela Holguin calls Cuban President Raul Castro, so that he joins the meeting of heads of states and government on Saturday.
We believe that this Summit will be the last without Cuba, however, he said that this possibility depends on the lifting of the veto impossed by the United States and Canada on the inclusion of the island in this type of hemispheric forum.
U.S. pressures led to the excluison of Cuba from the Sixth Summit of the Americas; a position that Havana described as unacceptable and unjustifiable, and in correspondence with the traditional Washington's hostile policy against the island.
"There has been no surprise, it has been the chronicle of an announced exclusion (…) the United States with its contempt and arrogance offends the great nation," recently said Cuban Foreign Minister Bruno Rodriguez, referring to the forum. (Taken from PL)