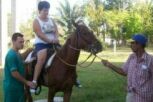 Over a hundred multiple sclerosis patients have benefited in Sancti Spiritus from hippotherapy since it was first used in Cuba in the Dr. Faustino Perez Rehabilitation Provincial Hospital. The treatment is part of a neuro-rehabilitation integral program.
The institution's Director Dr. Rolando Baldomir González said that the treatment lasts four to six weeks and is part of a neuro-rehabilitation integral program that brings together other procedures like hydrotherapy and physical exercises.
"This experience with adult patients -the only one in the island- has greatly improved the health condition of the patients as far as balance, rate of moving and properly making first and second order physiological needs is concerned", he added.
According to several studies, the effectiveness of this treatment depends, to a large extent, on the physical conditions of the horse, which will directly influence the information sent to the patients' brains.