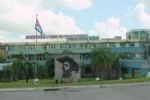 The Provincial General Hospital Camilo Cienfuegos, in Sancti Spiritus, applies this treatment to patients with knee osteoarthritis, one of the diseases that most affects the residents of this Cuban central region.
Although this is a project in the making, the implantation of stem cells in orthopedics becomes a novelty in Sancti Spiritus. The treatment, already applied in nine Cuban provinces, include only those patients with knee osteoarthritis.
According to Dr. Dany Perez Castillo, first-degree specialist in Orthopedics and chief of this research project, "not all suffering from this disease are included, only those who have not cured with medical treatment, physiotherapy and common surgeries".
"Before diagnosis, which can be done through x-ray, soft tissue ultrasound, or arthroscopy, patients are evaluated by a multidisciplinary consultation consisting of hematologists, general practitioners and orthopedics."
The application of mononuclear cells-which besides the bone marrow, main reservoir, are also found in the peripheral blood-involves a 250 milliliters of blood extraction to the patient which is subjected then to a processing at the Provincial Blood Bank for extracting this type of cell .
"Before applying such treatment, patients are asked to use Leucocim or Hebervital, a drug that favors an increased production of stem cells from the bone. With the patient's informed consent and after all the blood sample is processed, we move on to the infiltration of these cells in the knee, "says the doctor.
Specialists ensure that, despite the risks, the treatment has proven effective in other parts of the island: patients are better with a single dose and their pain is relieved long-term, which is one of the evils caused by this pathology.
"After the implantation of stem cells, patients will be checked for one year and in the following month, the physiotherapy treatment is added," says the specialist.
Knee osteoarthritis is one of the diseases that most affect Sancti Spiritus residents, hence it was decided to start this type of implant for those patients, however, it is expected to be extended to other orthopedic affections.
The implant of stem cells can be replicated in other specialties as Angiology, Cardiology, Ophthalmology, Dentistry and Maxillofacial Surgery.