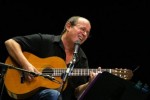 Cuban singer-songwriter Silvio Rodriguez will travel to Chile next December to attend celebrations for the centenary of the Communist Party (PC), PC leaders reported.
The politics committee member and PC's national manager of Culture, Claudio De Negri, said the renowned Latin American troubadour accepted the invitation by the Party.
Negri said that the travel date is close to December 8th, when the doors of the National Stadium will open for the great celebration of the centenary of the PC, founded on June 4th, 1912 by the typographer Luis Emilio Recabarren.
The presence of Silvio in Santiago will help to give an international nature to this political and artistic meeting, which has been celebrated for a year around the country and will run until June 2013, said the communist leader.
He added that besides Silvio, who is the author of emblematic songs such as Ojala, Uncornio and Angel para un Final, many artists have expressed their desire to participate in the commemoration.
(Taken from PL)