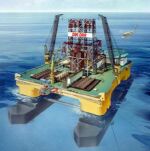 A mobile offshore-drilling rig, the Scarabeo 9, arrived in Cuban waters on Thursday with the purpose of resuming deepwater oil prospecting in the coming days some 22 miles off the Cuban coasts, in the country's Exclusive Economic Zone of the Gulf of Mexico.
The rig, to be operated by the Spain-based Repsol YPF oil company, was built in China and Singapore and it has all the necessary equipment to guarantee that operations are carried out efficiently and complying with all security standards.
Repsol recently invited U.S. inspectors to check the rig before it arrived in Cuban waters and the company committed itself to meet all established drilling requirements.
A recent article published on the Houston Chronicle said that "officials with the Interior Department's Bureau of Safety and Environmental Enforcement and the U.S. Coast Guard inspected the Scarabeo 9, a mobile offshore-drilling unit that privately owned Spanish company Repsol plans to use as close as 50 miles to Florida's coast. While aboard, officials reviewed details about the vessel's construction, drilling equipment and safety systems, the environmental enforcement bureau said"
Taken from AIN