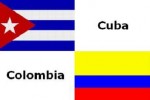 Colombian President Juan Manuel Santos expressed his gratitude towards Cuba's support for the realization of the peace talks agreed with the rebels of the Revolutionary Armed Forces of Colombia-Army of the People (FARC-EP).
The South American head of state, which is on a visit to Lisbon, Portugal, said: "I want to thank Cuba for being a host and because it has helped us a lot for these agreements."
He added that the way the island has cooperated deserves their acknowledgement and gratitude, the AFP news agency reported.
On August 26, in this capital, representatives of the FARC-EP and the Colombian government signed the general agreement for the end of the conflict and the construction of a stable and lasting peace, as a result of secret contacts previously held here.
Havana was selected by the two parties as permanent venue for negotiations, which were agreed on to begin on Thursday but were postponed for Monday, November 19, with the purpose of finalizing details of the mechanisms of citizen participation, according to a joint communiqué issued on Wednesday.
These peace talks have wide international consensus as well as in Colombia, since they open the possibility of a political way out to the current situation, aggravated in the 1980s.