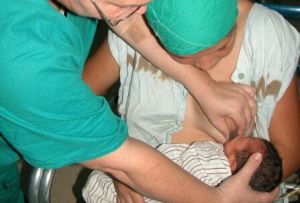 With a work that focuses on the care of the mother and the child,  Sancti Spiritus achieves an infant mortality rate of 2.9 per 1,000 live births, among the lowest in Cuba.
More than 400 births are also reported in the Cuban central province.
The significant program combines the work of health professionals with the hospital and maternity homes activity in this area, among other factors in favor of such a sensitive task.
Radio Sancti Spiritus digital site  reports that Pavel Nodarse, head of the maternal and child health department in Sancti Spiritus province, said that from January to date, two municipalities, Yaguajay and La Sierpe, do not report deaths in under-one year children.
The health official in the territory said that works continue to be done for strengthening risk control before conception, and improving the quality of prenatal and perinatal services, as well as the hospital and therapy rooms, both neonatal and pediatric.
Taken from Radio Sancti Spiritus digital site/Translated by Escambray