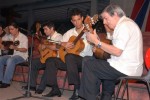 Residents of Sancti Spiritus, had plenty of music yesterday night. It has been this way since 1989, when the National Trio Festival settled down in this central Cuban city.
It's true that the event is not the same anymore, but it is held every year like sort of ritual that the city refuses to let go. It is sponsored by the Cuban Union of Writers and Artists (UNEAC) in Sancti Spiritus, and by the Provincial Company for the Commercialization of Music and Shows.
Trio musicians are scheduled to perform in several entities and locations, such as health institutions, the Trova House, and the historic area of the village, including the Principal Theater.
This year, the trio festival will honour master guitar player Roberto Jiménez on his 70th birthday anniversary. The meeting will also acknowledge the local Miraflores and Colonial Trios.