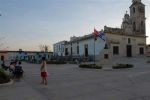 Sancti Spiritus's Maceo Park, best known as La Caridad Park, was granted a mention in the recently celebrated tenth award ceremony of the National Preservation and Restoration Prize.
The Head of the local Office of Monuments and Historical Sites Roberto Vitlloch considers the recognition a kind of reward for all those who took part in the restoration works carried out at the location.
Beyond the technical significance of the preservation approach itself, the architect highlighted the socio-cultural impact of what has been done, which breathed life into the areas of the park.
This park used to serve as gathering place for the coros de claves, and witnessed the foundation of the Sancti Spiritus Communist Party, in 1930. It became known as Plaza de La Caridad (La Caridad Square) in the first half of the XVIII century and was named Parque Maceo in 1911.
(Taken from Radio Sancti Spiritus. Translated by Escambray)