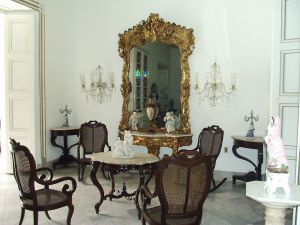 Sancti Spiritus's Parque Maceo (Maceo Park) and Museo de Arte Colonial (Colonial Art Museum) will compete for the National Preservation and Restoration Prizes, the nominees of which were announced this Thursday in Havana.
The park was chosen as one of the candidates in the preservation category, along with other six sites, while the museum was elected, with other ten candidates, for the restoration distinction.
Vice President of the National Council of Cultural Heritage Nilson Acosta, informed on the nominated sites for the preservation prize, which are the Roges Family's House, from Pinar del Río; the Louvre Hotel, from Mayabeque; the Sagua Movie House, from Villa Clara; Cienfuegos's  Bishop's Palace and Maceo Park, from Sancti Spiritus.
According to the report by the Cuban News Agency, Las Tunas's Santa Elena de Amancio Catholic Church and Holguin's Headquarters of the Union of Writers and Artists of Cuba (UNEAC), were also included in this nomination list.
As far as the nominees for the restoration category is concerned, in addition to the above-mentioned Colonial Art Museum, Pinar del Rio's Sagrado Corazon de Jesus Church; Havana's Napoleonic Museum; Mayabeque's rest house of the former Amistad Sugar Mill; and Matanzas's Velasco Hotel, will also be considered.
This nomination is also aspired to by Villa Clara's Nuestra Señora de Dolores Catholic Church; Cienfuegos's Fondo Cubano de Bienes Culturales (Cuban Fund of Cultural Property) Headquarters; Camaguey's Maceo Street; Las Tunas's Roberto Garcia Blanco Daycare Center, and Holguin's Rafael Freyre Torres Municipal Museum.
The collateral prizes granted by the institutions and by those involved in heritage affairs, will be announced next October 8th at the Havana Riviera Hotel, added Acosta.
He also said that the Cultural Heritage National Prize for the life achievement work will be awarded, for the first time, in October, within the framework of the Cuban culture week.