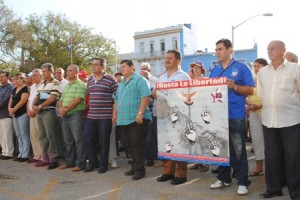 After five days on solidarity demonstrations, the "Five Days for the Cuban Five" campaign was concluded this Saturday in the central Cuban province of Sancti Spiritus. This effort was the equivalent to the campaign launched in Washington DC, to demand the return of the Cuban Five to the island.
While intellectuals and personalities from America and other countries joined in rallies and demonstrations, the White House's Oval Office was delivered lots of faxes, letters and e-mails demanding President Barack Obama the release of the Five.
The major solidarity rally took place here Thursday morning, with a huge march up to the central park. This way, local residents also commemorated the 51st anniversary of the Playa Giron victory over the imperialism.
The documentary Will the Real Terrorist Please Stand up?, by USA intellectual Saul Landau was screened at Sancti Spiritus headquarters of the Cuban Institute of Friendship with the Peoples (ICAP) as part of the activities in support of the Cuban Five antiterrorist fighters imprisoned in the United States.
Solidarity activities were also organized by the Federation of Cuban Women and the Committees for the Defense of the Revolution in the territory.