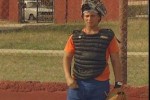 Sancti Spiritus baseball player Raisel Echemendía is currently attending the First World Sub-15 Championship, to take place in several Mexican cities until August 26th.
Echemendía is one of the two catchers of the team, which is made up of 20 athletes and is coached by Damilo Dominguez, from the Cuban province of Camaguey.
This will be the first official competition at this level after adjustments made ​​last year by the International Federation of Baseball in its last congress.