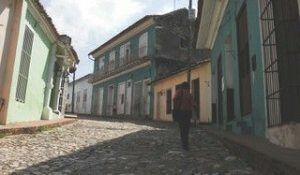 The Llano Street, found in the old area of Sancti Spiritus, slopes down to the Yayabo River. This is the road preferred by many people, including tourists, to get in touch with a peace of the urban historic center of the village, which was granted the title of National Monument in 1978.
According to Anait Gómez Hernández, director of the Provincial Heritage Center in this central Cuban territory, this year the emblematic street has been renovated throughout, after a decision of local authorities.
Restoration actions were carried out on the stone pavement, as well as on the electricity and telephone networks, wherever possible. Likewise, surrounding buildings were painted anew. The construction of these one-story four-to-five meters average height houses dates back to the XVIII y XlX centuries.
For architect Silvia Arruebo Salvador, the Llano Street is a singular fragment of the city characterized by identity attributes. The houses around have clay and wood leaning roofs, plain and barely decorated bars, no porches, and the way they were built allows to reflect the irregularities of the road.
More than once, local heritage experts have called for the elimination of construction violations in this area, which, according to Gómez Hernández, will be gradually worked out.
The director of the Provincial Heritage Center praised what is being done in Sancti Spiritus to welcome the 500 foundation anniversary,  on  June 4th, 2014.
Some of the major undertakings are the return of the Guairo and Padre Quintero Streets to their original cobblestone condition, and the renovation of the Maceo Park, next to La Caridad Church, which was granted a mention in the recently celebrated tenth award ceremony of the National Preservation and Restoration Prize.
In Anait Gomez's opinion, the work carried out at Llano Street must be understood as part of a whole process, in a city that revives, and that  is reluctant to lose its identity.