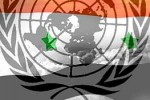 Russian Ambassador to the UN, Vitaly Churkin, said today that Kofi Annan's decision to resign from his post as special envoy to Syria was regrettable.
"We understand his decision, we are very sorry," commented Churkin after recalling that Annan's mandate would end on August 31.
Previously, UN Secretary General Ban Ki-moon explained that Annan had decided not to renew his mission in Syria, where he is also a delegate of the Arab League.
Kofi Annan deserves admiration for the selfless way in which he has put his skills and prestige to the service of a difficult and unrewarding task, said Ban.
The UN General Assembly postponed until Friday, Aug. 3 the voting of a resolution on Syria presented by Arab countries, which are trying to blame the government of Bashar al-Assad for the violence prevailing in the country.
The voting had originally been set for today, but will now take place at 10:00 GMT tomorrow.
The document will be presented by Saudi Arabia, sponsored by several Middle East nations.
According to diplomatic sources, those countries have agreed to withdraw their request for Al-Assad to step down and their call to UN member countries to impose sanctions on Damascus.
(Taken from PL)