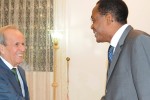 The president of the National Assembly of People's Power of Cuba, Ricardo Alarcon, met on Sunday in Havana with his counterpart from the Republic of Benin, Mathurin Coffi Nago.
At the meeting, the parliamentary leader of Benin said his visit is aimed at reaffirming his country's solidarity with the people and government of Cuba.
Likewise, he expressed admiration for the spirit of resistance and the courage of the Cuban people, who has withstood endless difficulties throughout the last five decades.
Coffi Nago, whose visit runs until April 28, also labeled Cuba as a paradigm for developing territories and the Third World.
For his part, Alarcon said this contact will help strengthen relations between the two parliaments and peoples. (Taken from RHC)