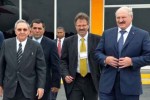 Army General Raul Castro, President of the councils of State and  Ministers, reiterated Cuba's stance against the institutional coup perpetrated against  Paraguayan President Fernando Lugo.
After seeing Byelorussian President Alexander Lukashenko off at Havana's Jose Marti
International Airport on Monday, Raul spoke with the press about the recent attack against the democratic institution perpetrated in that South American nation.
I'm not surprised, he said, and recalled the role played by the United States in the military coup against the socialist government of Salvador Allende in Chile (in 1973),  and the attempts to topple the leader of the Bolivarian Revolution, Venezuelan Hugo Chavez, in 2002.
He recalled that Washington's plans to overthrow governments of popular vocation in Latin America were checked during the administration of US President James Carter between 1977 and 1981.
Raul underlined the importance of media outlets like Telesur to spread the history, cultural  roots and information of countries in the region, the knowledge of which is of vital importance for the strengthening of our nations as a single one, as it should be in the future, and not globalized under the US mandate.
Taken from AIN