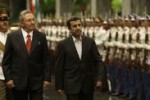 Cuba President Raul Castro saw his Iranian counterpart Doctor Mahmoud Ahmadinejad off this Thursday after the conclusion of his 24-hour official visit to the island.  On Wednesday, both leaders held official talks. On Wednesday, both leaders held talks and referred to the excellent state of bilateral relations and to international topics.
Castro and Ahmadinejad ratified the committment of the two nations towards the defense of peace, public international law and the principles of the United Nations Charter as well as the states' right to the pacific use of nuclear energy.
According to Granma daily, they also ratified their disagreement with unilateral economic sanctions.
The meeting was also attended by both countries' Ministers of Foreign Relations Ali Akbar Salehi and Bruno Rodríguez Parrilla. (Taken from ACN and PL. Translated by Escambray).