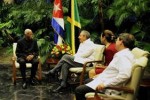 The President of Cuba's Councils of State and Government, Army General Raul Castro Ruz held talks on Tuesday afternoon with Jamaica's Foreign Affairs and Trade minister, the Honorable Arnold Joseph Nicholson, who is on an official visit to Cuba.
During the cordial meeting, Raul Castro and Joseph Nicholson addressed the excellent state of bilateral relations between their two countries and they expressed their willingness to further advance cooperation links. They also exchanged views on issues of regional and international interest.
The top government Jamaican official was accompanied by his country's ambassador to Havana A' Dale George Robinson. Attending the meeting was Cuba's foreign minister Bruno Rodriguez Parrilla.