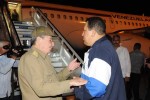 Cuba President Raul Castro saw his Venezuelan counterpart off Wednesday night. As highlighted by the press, Chavez underwent the second phase of the radiotherapy treatment after the surgeries he was submitted to  due to a pelvic cancer.
A photo of the two leaders talking next to the stairs of the plane which took Chavez back to Venezuela, was published in the front page of Granma diary.
Upon arrival in Barinas, Chavez said that post-surgical process has been a success. "I'm still undergoing the recovery stage. It's been already 38 days since the surgery, and today I have concluded the second radiotherapy treatment cycle", he added.
He explained that the physical examinations he's been so far submitted to, evidence a totally positive recovery.
"I'm stuck to life", added the head of state after reiterating her commitment to keep on working together with the most needed ones.
(Taken from Cubadebate. Translated by Escambray)