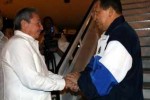 Venezuelan President Hugo Chavez traveled to Havana, Cuba, to continue his medical treatment, which began in late March.  He was welcomed by his Cuban couterpart Raul Castro.
On Monday, the National Assembly authorized the trip requested by the statesman, who had previously said at the Miraflores Palace that once the Parliament made that decision, he would return to Cuba.
In the context of the promulgation of the new Organic Labor Bill, Chavez stated that he is in the final stage of his radiotherapy treatment.
"These are not easy days, but we are warriors to face any adversity and with faith in God, Christ the Redeemer and the immense love of a people, we shall go ahead," Chavez said.
On Monday, the Venezuelan president approved a labor legislation, described as a success and aimed at dignifying workers and unionists, who have been historically exploited by employers. (Taken from PL)