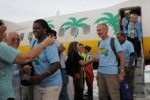 While in Cuba, members of the Pastors for Peace Caravan will travel centers of historical and cultural interest, besides visiting some of the provinces in the island.
The 23rd Pastors for Peace Caravan reached Cuba on Saturday, after touring 100 U.S. cities, in which they collected hundreds of tons of humanitarian aid.
Upon its arrival at the Jose Marti International Airport in Havana, the 45 members of the caravan expressed their love for the Cuban people and the commitment to continue the effort to end the blockade imposed by the U.S. government for over 50 years.
Citizens of the United States, Mexico and Canada make up the group which brings to the island some important means destined to the health and education sectors, two of the most hit by Washington's policy against Cuba.
Under the slogan Lucius lives, the struggle continues!, members of the movement recalled Rev. Lucius Walker, founder of the initiative started 20 years ago through which they provided the Caribbean country with tens of tons of food, equipment, drugs and vehicles.
Rev. Luis Barrios, one of the co-directors of Pastors for Peace, told Prensa Latina that besides bringing material aid to Cuba, the most important thing for the caravan is its outreach among the American people.
For more than 15 days, he explained, we made presentations in over 100 cities in 45 states, which  served as a platform to report to them on this country and its revolution, since a large portion of Americans do not know the Cuban reality.
Gail Walker, daughter of the initiator of the movement, recalled that at the beginning of the caravan, in the U.S. border with Canada, the group had to camp out in protest at the authorities' attempt to block the convoy with humanitarian aid for Cuba .
While in Cuba, activists are to receive several workshops on topics such as updating the economic model and the importance of sustainable development, according to the agenda.
Translated by Escambray