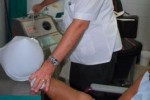 In the Camilo Cienfuegos Provincial General Hospital,  in Sancti Spiritus, a Cuban central province, over the 90% of the cases submitted to this treatment has improved their quality of life.
Without much technological fanfare or painful procedures, ozone therapy has been gaining popularity in Cuba's Medical Sciences. Even sceptics have surrended to its healing properties.
At least in the ozone therapy service of the General Hospital Camilo Cienfuegos, in Sancti Spiritus province, more than the 90 percent of patients requiring this treatment have improved their ailments and therefore their quality of life.
According to Lazaro Jesus Rodriguez Companioni, Bachelor of Science in Nursing and head of the service in the institution, more than 600 patients have undergone this therapy so far this year.
Among the most common diseases that are treated in the facility are diabetic foot ulcers and herniated discs, though they also received other referrals from specialties of angiology, physiatry, orthopedics, ophthalmology and neurosurgery.
The therapy, which according to the disease requires from 10 to 20 sessions over three times a year to every six months, is administered via rectum, intramuscular, local and subconjunctival.
Its proven efficacy lies on the ozone properties ranging from its bactericidal, fungicidal and virucidal actions, its contribution to increased blood oxygenation, to decreased platelet aggregation, and its ability to act as a stimulant of the reticuloendothelial system, as well as its anti-inflammatory and analgesic effects.