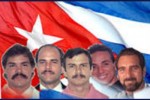 More than 300 activists will be attending the VIII International Colloquium for the Freedom of the Cuban Five, to be held November 28th to December 2nd in the eastern Cuban province of Holguin.
The event brings together activists from Europe, Asia, Africa, Latin and North America to discuss new and innovative ways of divulging and defending the cause of the five Cuban men imprisoned in the United States since 1998 under false allegations, said Graciela Ramirez, coordinator of the International Committee for Freedom of the Five.
Participants will also discuss the statements of lawyer Martin Garbus, who said the Miami trial of Antonio Guerrero, Fernando González, Ramón Labañino, René González and Gerardo Hernández should be declared unconstitutional.
According to Ramirez, Garbus' statements are based on the known fact that the United States government paid journalists to write biased and untruthful articles demonizing the Cuban Five (as they are internationally known) in order to manipulate domestic public opinion and favor a harsh punishment for their alleged crimes.
The event will also stress the need to sensitize President Barack Obama and his wife with this cause, so that these men can return home by means of presidential intervention.
The Cuban Five were arrested in 1998 for monitoring anti-Cuba terrorist groups based in Miami, FL. They were then tried in 2001 and given extremely harsh sentences of up to life imprisonment.