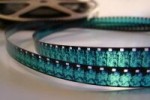 Over a hundred films from Latin America, Asia and Europe, will compete in the upcoming 10th Humberto Solas Cine Pobre International Festival.
The film event, which since 2003 has been permanently celebrated in the coastal city of Gibara, in the eastern Cuban province of Holguin, will run April 17th through 22nd.
According to the head of the provincial film centre in Holguin, the full-length film Gibaras will be shot, which will reproduce stories that have taken place during the event. This is one new feature of the festival, first conceived by late Humberto Solas, who was also its founder and first director. At present moment, it's being run by Lester Hamlet.
The meeting will be dedicated to women and youth. Thus, special homage will be paid to Cuban actress Isabel Santos and to Dominican Tanya Valette, general director of San Antonio de los Baños's International Film School.
Spanish singer-songwriter, film director and painter Luis Eduardo Aute will be a special guest to the event.
(Taken from AIN and translated by Escambray))