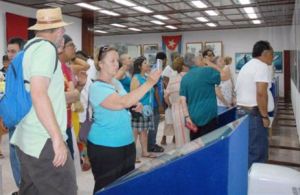 Over 1 600 friends of Cuba came to visit Sancti Spiritus this year as members of solidarity brigades from 24 countries. The Nordic Brigade (Europe), the Cruz del Sur Brigade (Australia and New Zeland), and groups from Norway and Uruguay are just a few examples.
Also in 2012, the Institute of Friendship with the Peoples (ICAP, in Spanish) in this province held meetings, workshops, and other activities alike with the 718 foreign students that study university careers in this territory.
When briefing on the issue, ICAP delegate Raul Cardoso Cabrera told AIN that visitors attended several political, economic, and cultural activities. He highlighted their interest toward the Cuban Five, who are held in the USA for fighting actions by Florida-based anti-Cuban terrorist groups.
Likewise, they condemned the over-half-a-century US blockade, which has impacted both the economic and social development of the Caribbean island, added Cardoso.
The guests of this non-governmental organization were invited to tour local historic sites, schools, and health centres. They also met with local residents and took part in different voluntary work actions.
(Taken from AIN, and translated by Escambray).