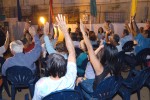 All members of the Cuban electoral commissions are currently organizing the first stage of general elections in the country, which includes the identification of constituency sections for the upcoming nomination of candidates to municipal governments, to take place September 29.
Eight nomination assemblies take place in eight sections of every constituency, which are drawn up according to their population, while the number of candidates to be nominated for the October vote for municipal assemblies flows between 2 and 8 persons.
The nomination process is the key step in the Cuban democratic system before the October election, in which millions of Cubans will vote those who will represent them at the Municipal Assemblies over the next two and a half years, reads an article in Granma newspaper.
All 78 thousand members of the electoral commissions are preparing the first stage of elections with seminars, meetings and exchanges of views and experience on at least 14 previous electoral processes held in the country since 1976.
Taken from AIN