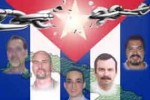 Thousands of people from around the world appreciated the new video in solidarity with the five Cuban heroes condemned in Miami for fighting terrorism,  which was presented in social networks of the Internet.
This is the 8th production by the International Committee for the Freedom of the Cuban Five, the copies of which were put in YouTube and in other nodes -like Facebook- with the objective of reaching different audiences, the Prensa Latina news agency reported on Wednesday.
The recording offers statements by renowned international artists Danny Glover and Peter Coyote, and reflects the injustice committed against the Cuban patriots, condemned to sentences ranging from 15 years to two life imprisonments plus 15 years.
Many supporters of Cuba's cause have joined this struggle by way of social networks, to demand justice for Rene Gonzalez, Ramon Labañino, Antonio Guerrero, Fernando Gonzalez and Gerardo Hernandez and their return to their homeland, to their families and friends.
Taken from AIN