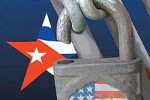 The Athens-based publishing house Diethnes Vima will put into sale next week the book "Los cinco luchadores cubanos en las carceles de EE.UU." (The Five Cuban Antiterrorist Fighters in U.S. Prisons), author Natasha Terlexi told Prensa Latina on Wednesday.
The complete and updated volume pretends to reach an extensive Greek sector of readers and give them all the facts of the long cause of the five Cubans unjustly held in U.S. prisons, updated until the resolution of supervised release of Rene Gonzalez.
The publishing house stated the importance to maximize and explain in full the case of Antonio Guerrero, Fernando Gonzalez, Gerardo Hernandez, Ramon Labañino and Rene Gonzalez. Although the case is well known within the movement of friendship with Cuba, it does not occur equal in the rest of the population.
"The book is a base to reactivate solidarity among those who know it, but also to get new supporters and friends to the cause of the Five," and how many people learn about the reality of a trial full of irregularities and legal violations, Terlexis said.
The text highlights figures and works of the Cuban Five, clarifying the revolutionary commitment and the work in defense of their homeland, which have nothing to do with the image of spies that have been given to them.
Taken from Prensa Latina