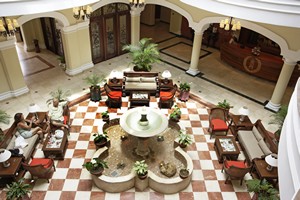 The construction of the Pansea hotel in Trinidad tourist destination will begin in the coming days as part of a long-term program aimed at enhancing the hotel industry of that Cultural Heritage Site.
The Pansea, as well as the Grand Hotel Iberostar Trinidad, is the second of the province with the rank of Five Star, which will raise the competitiveness and renew the tourist product of that city in the south of the island.
According to Reiner Rendon, delegate of the Ministry of Tourism (MINTUR, for its Spanish acronym) in Sancti Spiritus province, the construction of the hotel near Trinidad's historic center will take around 14 months and is valued in 5 million pesos.
The facility, with French-Cuban joint venture, will have 52 rooms of different types and is expected to have a horseshoe shape, with a pool and a courtyard in the center.
The MINTUR delegate also explained that a program for developing tourism in the province is underway until 2018, which includes the construction of more than 3 000 rooms, four hotels of high standards as the Iberostar Ancon, on the same peninsula, with 500 rooms and five-star category, and the Maria Aguilar, with about 400, both with mixed capital.