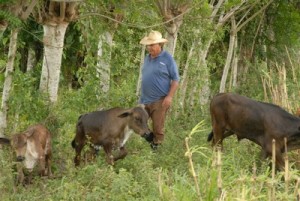 The new Cuban tributary system, to come into force next January, includes a special regime for the agricultural sector, which seeks to foster the production of basic foodstuffs in the island.
Hector Hernandez, vice-director of the tributary management offices in Sancti Spiritus, briefed Escambray digital on the advantages of this special system. He explained that agricultural workers won't be taxed the same way as the rest of non-state workers, and their expenses are to be rated differently.
"For example, in the case of weed-infested lands, usufructuaries will be granted a four-year term to solve the problem", he added.
Hernandez also explained that owners of lands in Cuba (companies, cooperatives, farmers, and usufructuaries) are taxed for the possession of the land, depending on its quality, and on the amount of hectares owned. This kind of tribute was present in the former system, but was not in force.
Other taxes to be paid are related to sales, land transportation, hired labour force, and the contribution to social security, among others.
Hernandez finally pointed out that the new tributary law will be stricter with those farmers who don't take due care of the land. They will have to pay the regulatory idle land tax, intended to foster field productions.