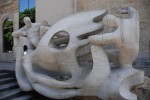 As part of celebrations, the Havana based National Fine Arts Museum is holding a temporary exhibit that showcases the work by renowned Cuban sculptor, Rita Longa, whose centennial is being commeorated this year.
Ten days of celebrations to mark Cuban Culture Day began on Wednesday all over the island dedicated to the centennials of Cuban writer Virgilio Piñera, of renowned Cuban artist Rita Longa, of the foundation of the Independent Colored People's Party, and the 110th anniversary of the most universal Cuban artist Wifredo Lam.
Cubans celebrate Cuban Culture Day to commemorate October 20th, 1868, the date in which Cuba's National Anthem was sung for the first time, and also the date when the "mambi" or Cuban independence army under the command of Carlos Manuel de Céspedes freed the eastern city of Bayamo.
The 2012 Cuban Culture Festival is characterized by a wide variety of activities in all arts forms and other cultural expressions, such as cultural heritage, social and cultural community work and environmental protection.
Three of the most important events that are marking Cuban Culture Day on October 20th are Fiesta de la Cubanía (Fiesta of Cuban Spirit) scheduled to be held from October 17 through 20 in Bayamo, also called "the cradle of Cuban nationality", in the Eastern province of Granma, where the tenth edition of the event Crisol de la Nacionalidad(Mixture of our Nationality) will also take place; the Iberoamerican Culture Party in the eastern city of Holguín and the Leo Brower Festival which already started in Havana on October 1st.
Havana based institutions are also joining celebrations, including Casa de las Américas, Havana's Historian Office, the Pablo de la Torriente Brau Center and the Casa del Alba Cultural.