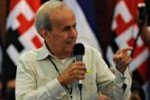 Namibia's head of state Hifikepuney Pohamba met in Windhoek with Cuban Parliament president Ricardo Alarcon, in what was described as a very fraternal visit, before the island's top legislator concluded a working visit to the African nation.
The Namibian leader stressed the good state of relations between Havana and Windhoek and was interested in learning about the health of Cuban Revolution leader Fidel Castro, according to Granma daily newspaper.
Prior to his talks with the Namibian head of state, Ricardo Alarcon met with Parliament speaker  Teo Ben Guriab, legislators and heads of parliamentary commissions.
Addressing the Namibian Parliament, Alarcon referred to several issues including the unfair and long imprisonment in the United States of the five Cuban anti-terrorist fighters. He took the occasion to thank the Namibian Parliament and Government for their permanent  solidarity with Cuba.
During his visit to Namibia, the Cuban Parliament leader was also received by Prime Minister Nohas Angula and by foreign minister Uutomi Nujoma. He also met with Cuban workers in the African nation and paid a visit to  Namibian revolutionary Andimba Toivo ya Toivo, who has been an outstanding activist in favor of the release of the five Cuban anti-terrorists, and headed the Namibia-Cuba Friendship Association.
Taken from AIN