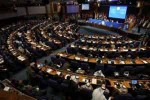 The Iranian government stated that the celebration of the recently concluded 16th Summit of Non-Aligned Movement (NAM) was political and understanding success.Official media said that the most important achievement of the summit meeting was the unanimous and unqualified approval of the Final Declaration of the meeting, Iranian Foreign Minister Ali Akbar Salehi told reporters.
The Islamic Republic took over the NAM rotating presidency on Sunday until 2015, when the group holds its 17th summit meeting, scheduled to be held in Caracas, Venezuela.
Many NAM countries identified with the United States were pressured to refrain from attending the meeting, as well as UN Secretary General, South Korean Ban Ki-moon, without avoiding that representatives from 120 delegations were present.
The success of the meeting was such that some Western media called it as Iran's victory against West powers, Iranian Foreign Minister noted.
Among the delegations, whose assistance caused more expectancy was that of Egypt, led by President Mohamed Morsi, whose country has no diplomatic relations at the embassy level with Tehran for over 30 years, since the overthrow of the Iranian monarch Reza Pahlavi in 1979.  (Taken from PL)