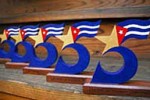 Irma Sehwerert Milejan, mother of Rene Gonzalez, one of the five Cuban anti-terrorist fighters held in the U.S., said she appreciated the expressions of affection and solidarity she received on her son's birthday during a visit to Cienfuegos, in central Cuba.
During a tour of the city, Irma said she was very grateful for the support given by solidarity committees from around the world, which sent her their messages on her son's birthday, on August 13th.
Maria Orquidea Artilles, is a Cienfuegos resident who turned her living-room into a site promoting the truth about the Cuban Five case. During her visit there, Rene's mother said she was very impressed with the initiative, which calls the attention of Cuban and foreign visitors to the city.
Projects like this one allow the world to understand the truth about our children, said Irma, who was accompanied by Mirta Rodriguez, mother of Antonio Guerrero.
In additional comments about the Cuban Five House, as the project is popularly known, Rodriguez noted that this kind of initiatives encourages more and more people to join the struggle against the injustice of their case.
(Taken from RHC)