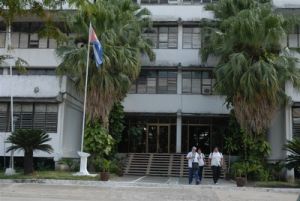 With the graduation in Sancti Spiritus of 724 health professionals,  the total goes over 10 thousand 500 graduates of the medical specialties in this central province of Cuba.
Dr. Magalys Echemendia Marrero, acting rector of the University of Medical Sciences in Sancti Spiritus, stressed that 58 students from 13 countries obtained their diplomas in the current year.
The new graduates were trained in the careers of Medicine, Dentistry, Psychology, Nursing and other courses of studies of the so-called health technologies.
Silvia Perez Chaviano, one of the 73 Golden diplomas and the most outstanding student, read the oath of the graduates, who pledged to help the health of human beings regardless of religion, political belief or economic standards.
At the conclusion of the ceremony, Dr. Juan Luis Marcelo Penton, director of the Provincial Health Sector, said that the roots of Cuban public health dated back to the military health in the deeds of the mambises and the Rebel Army, where wounded villagers hurt by the troops were healed.
He also demanded of graduates the altruism and dedication to fulfill their missions in which Cuba and the world require them.
Sancti Spiritus medical academic institution began operations in 1981 as a teaching unit ascribed to the Institute of Medical Sciences in Villa Clara; it was inaugurated as a faculty by the Commander in Chief Fidel Castro in 1986, and in 2009 it was conferred the status of university .
Taken from AIN/Translated by Escambray