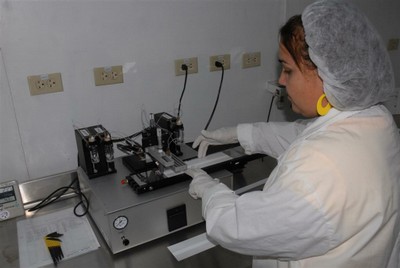 Sancti Spiritus's Genetic Engineering and Biotechnology Center (CIGB) is scheduled to produce 600 000 pregnancy test strips this year in order to meet the growing demand for this diagnostic procedure.
The HeberFast Line Embarazo test is a one-step quick cualitative essay that identifies human chorionic gonadotropin (hCG) in urine samples.
The test is based on the use of specific monoclonal antibodies against hCG and colloidal gold as marker, thus, the hormone can be identified in the urine sample in less than 10 minutes.
It has been proved 99% effective. The HeberFast Line Embarazo test prevents the risk and complications derived from the termination of pregnancy such as infections and traumas.
The scientists working at this institution founded April 10th, 1990, also pointed out that the test is quite similar to those internationally commercialized and distributed by companies like UNIPATH, ABBOTT and VEDALAB.
This is the only institution of its kind in the island where these devices are produced.