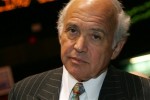 US attorney Martin Garbus exposed in details how Washington paid journalists from several US media outlets to mount a campaign in Miami to guarantee that the five Cuban antiterrorist fighters, held for 14 years in that country, were convicted during a trial held in 2001.
According to PL news agency, Garbus told ABC National Radio that federal authorities gave large amounts of money to reporters with CBS, The Miami Herald, El Nuevo Herald, the Diario de las Americas, Radio and TV Marti and WAQI radio, among other media for a covert action aimed at manipulating public opinion against Gerardo Hernandez, Rene Gonzalez, Ramon Labanino, Fernando Gonzalez and Antonio Guerrero.
Four of the five anti-terrorists, internationally known as the Cuban Five, are currently serving severe prison sentences after they monitored Florida-based violent organizations, which have hatched and carried out terrorist actions agaisnt the island over the past five decades. Such violent attempts have left over 3 400 victims in Cuba.
A fifth Cuban, Rene Gonzalez, was released from prision October 7, 2011, after he met a 13-year sentence. But, he was forced to remain under three-year probation in the city of Miami, cradle of ultra-right anti Cuba organizations.
The US lawyer said that between 1998 and 2001, public opinion in Miami was bombarded with media propaganda against the Five, as US authorities paid the journalists to persuade the jury and interfere with the legal process.
Such operation translated into at least 1 000 articles and other information pursuing a negative impact on the trial and against the defendants in order to guarantee their conviction, said the lawyer.
Garbus, who is part of the defense team for the Cuban Five, also addressed legal actions aimed at achieving a hearing and having the government release unpublished documents relevant to the legal process.
The US lawyer is considered one of the most important professionals in his country. He is a prestigious university professor and has written several books on legal issues.
Taken from AIN